Davenport. New Haven, CT. (1835). Copper. 28mm. Davenport General Variety & Fancy Goods. This is a very scarce merchant and difficult to find token, particularly in this grade and condition. Most likely Rulau's R-3 rarity designation is woefully short of the mark.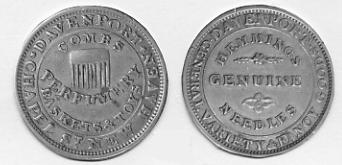 Steve Hayden Mail Bid Sale #27, July 28, 2007, lot 636.














Copyright © 2004-2008 Alan S. Fisher. All rights reserved.